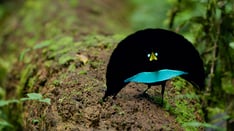 When we think of birds, we think of feathers. Feathers give birds their color, keep them warm and dry, form the aerodynamic shape of the wing and can even control sound. Feathers are amazing and only birds have feathers. The remarkable properties of feathers arise from their unusual structure at the microscopic scale. In this talk, we'll see how the microscopic structure of feathers produces iridescence in hummingbird feathers and water repellency in duck feathers. We'll also explore how the microscopic structure of the feathers in a Barn Owl's facial disc and ruff focuses sound towards their ears, allowing them to hunt in total darkness, by sound alone.
Monday Night Seminars are free and open to the public.
Please note: This month's seminar will not be recorded or live-streamed. Please join us in person in the Cornell Lab of Ornithology's auditorium. You can find past live-streamed seminars in the free video seminar archive on our website.