Download a Map of the Albatross Cam Site
Get oriented to all four nests as well as last year's nest site.
With multiple nests, multiple adults, and multiple nestlings all occupying the cam site this year, it can be hard to keep track of who's who!
This beautiful hand-drawn map of the site, formatted to use as a computer wallpaper, is an essential tool for understanding the social dynamics of the albatross that nest on and visit the property. Designed and illustrated by artist (and Albatross Cam volunteer) Elizabeth Smith, the map features all four nest sites, last year's nest site, and the names and band numbers for all of the birds nesting on the property.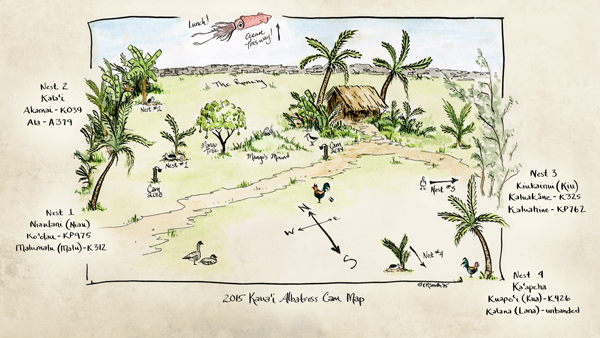 Thanks for watching!