Wondering About the Birds in Your Neighborhood? Download a free issue of BirdNotes.
Birds engage in many intriguing behaviors right outside our windows. This issue of BirdNotes answers the most common questions about birds we receive at the Cornell Lab of Ornithology each spring.
Learn the answers to these questions and more:
Why is the mockingbird in my yard imitating car alarms?

Is it OK to keep feeding birds in spring and summer?

Why does the cardinal in my yard keep flinging itself against my window?
Download our free edition of BirdNotes today. Share the facts with family and friends!
BONUS! If you provide your mailing address we will send you a complimentary copy of our print newsletter, All About Birds Newsletter.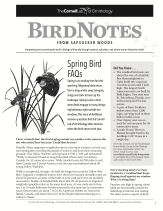 Species included in this BirdNotes
Northern Mockingbird
American Robin
Northern Cardinal
House Sparrow
Tree Swallow
Yellow Warbler
Purple Martin
BirdNotes provide insights into the intriguing behaviors of backyard birds.