In Support of Black Birders Week
At the Cornell Lab of Ornithology, we've been moved and inspired by all the people posting for #BlackBirdersWeek. In recognition that some posters are just starting out in birdwatching, we'd like to help people learn the basics of bird ID—so birdwatching can be as fun, rewarding, and challenging as you want it to be.
That's why we're offering free enrollment in two ID courses, to anyone who wants them, through the end of #BlackBirdersWeek. The courses are Be a Better Birder 1: Size and Shape, and Be a Better Birder 2: Color and Pattern, each a $29 value. The all-online courses feature interactive lessons, videos, and quizzes that you can complete at your own pace. The courses do not expire, so you can come back to them as often as you like.
Interested? To enroll apply the following coupon code during cart checkout:
BlackBirdersWeek
Here's how:
1. From the course catalog, select one or both of the courses mentioned above:
2. Add them to the cart by clicking the "Enroll Now" button
3. Enter the coupon code BlackBirdersWeek23 and click 'Apply Coupon'
4. Click 'Proceed to Checkout' and your total will now be $0.00
5. To check out, you'll need a free Cornell Lab account—if you don't already have one. You'll be guided through the process.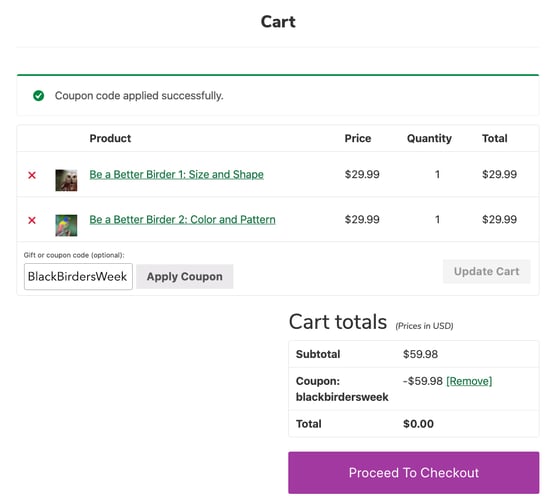 Feel free to share this coupon with friends—just send them the link to this page!
We hope you enjoy your free courses and begin a lifetime of learning and enjoyment of birds.
—The Bird Academy Team
What is Bird Academy?
The Cornell Lab of Ornithology's Bird Academy supports birders, nature enthusiasts, and students of ornithology from all over the world. Take advantage of exclusive learning tools and friendly video tutorials created by experts and made to be fun. Bird Academy courses are online, self-paced, and there is no deadline to complete them. You can return to them for reference or practice as often as you want. All course material, practice tools, instructional videos, and quizzes are available through your web browser.