Thank you. Enjoy your new collection of owl sounds!

Click the button below to download a zipped folder of owl calls in MP3 format.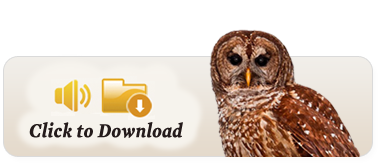 You'll receive the typical vocalizations of Great Horned Owl, Eastern Screech-Owl, Western Screech-Owl, Long-eared Owl, Short-eared Owl, Snowy Owl, Barn Owl, and Barred Owl. Listen to these downloads to learn to recognize these species often heard but not seen.
You can also use the sounds as ringtones if your device accepts MP3s (although you must download them to your computer before you can play them on your phone).
For more information on owl identification, life history, and interesting facts, visit each species on All About Birds.