In this student publication you will find rich pieces of work done by students in grades K-12 throughout the country. Download a copy to discover great student inquiry and to find inspiration for the classroom!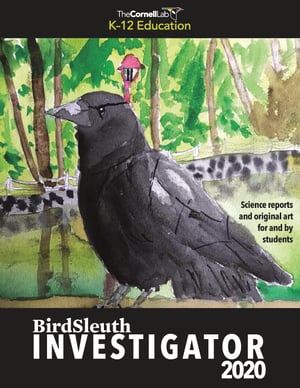 Inside the 2020 BirdSleuth Investigator you will find:
Student research projects from our National Student Challenge around bird feeding.

Student illustrations of the Red-headed Woodpecker, American Goldfinch, American Oystercatcher, and more.



Science writing, poetry, and other pieces of student work submitted by teachers and students of all grades from all over the country.
Completing the download form will also gain you access to archived editions of the BirdSleuth Investigator.
______________________________
K-12 Education Mission is to create innovative K-12 resources that build science skills while inspiring young people to connect to local habitats, explore biodiversity, and engage in citizen science projects.
We'll send you our monthly eNews about birds and conservation. You can unsubscribe at any time.