Sponsored by Perky-Pet®
The Ontario FeederWatch Cam is a great place to learn about the birds of the boreal forest. Throughout the cam season, we'll offer you chances to win prizes through fun and varied contests, so get ready to be creative, identify species, and share your cam-watching experiences!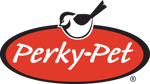 In this short clip, gregarious grosbeaks are busily feeding on the tray until scattered by the arrival of a Blue Jay. Tell us which species and sexes are present using the form, and you could win a feeder courtesy of our cam sponsor Perky-Pet®.
Click the play button to watch the 15-second video.
For the best clues, try enlarging the video to full screen and click the gear button to watch it in high definition.
You can browse through the species accounts in the AllAboutBirds.org Species Guide.
Be sure to enter your guess by midnight on Sunday, December 13, 2015 (only your first guess will count).
We will randomly select a winner from everyone who successfully identified the birds.
Thanks for participating!