When it was first released in 1992, Voices of the Cloud Forest was a groundbreaking audio production—a stereo audio journey through a day in Costa Rica's Monteverde Cloud Forest Reserve. Against a backdrop of forest drip and insect choruses, it showcases the sounds that a visitor might hear during a daylong visit to Monteverde: the roar of a troop of howler monkeys, the ethereal song of a Black-faced Solitaire, the rumbling of Volcán Arenal, the loud bonks of a Three-wattled Bellbird, and much more.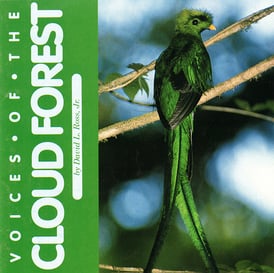 Now, more than three decades on from the release of Voices of the Cloud Forest, author Dave Ross would like to make this special audio journey free for all to download in perpetuity. It is his hope that this recording might inspire a new generation to protect the special places and species in our world.
Note: This download contains the same audio twice: the first version is without narration, while the second, narrated version begins at the 33:27 mark of the sound file.

Privacy Policy: https://www.birds.cornell.edu/home/privacy